How to Dry Okra in Dryer Machine
The okra is also known as ochro. Edible part is fruit pod, which taste crisp, tender and juicy, smooth and not greasy, the fragrance is unique, the seed can press oil. Okra after harvest could be quickly aged, yellowed and corrupted if it cannot be eaten or processed in time.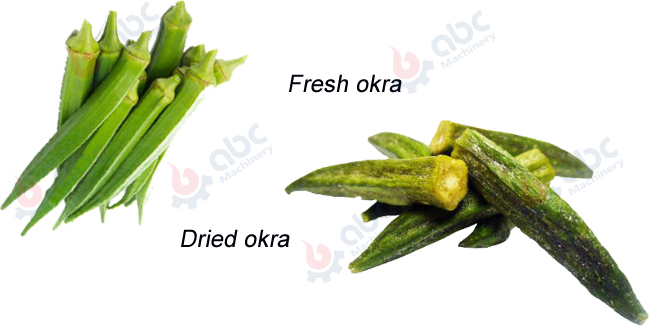 How to dry okra?
A hot air dryer machine is the most suitable equipment. It adopts the high temperature cycle fan, through the electric heat pipe or steam heat exchanger to heat the force. The hot wind circulates in the box enhances the heat transfer, increases the water evaporation rate, reduces the drying time.
The hot air dryer machine adopts the whole sealing structure, the hot air circulates in the box, reasonably discharging the hot and humid air and filling the fresh air.
Hot air dryer machine wide application: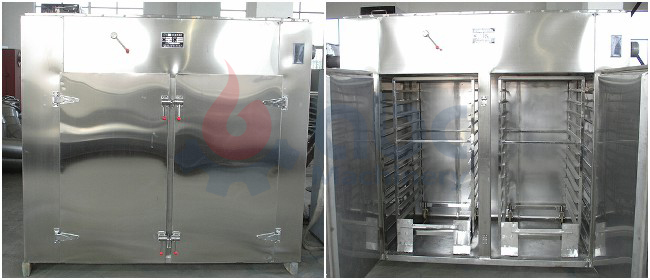 Dried okra health benefits
It contains a kind of viscous liquid and arabinose, galactosan, rat lipolysaccharide, protein, etc., which is often used to help digestion, enhance physical strength, protect liver, and keep the stomach whole.
Oil of okra is a kind of high-grade vegetable oils, its nutrients and flavor ismore than sesame oil and peanut oil.
It is rich in trace elements such as zinc and selenium, which can enhance cancer prevention and anti-cancer.
Okra is also rich in calcium. And its oxalic acid content is low, so calcium absorption utilization rate is higher, better than milk, to vegetarian and developing children, is a good calcium source.
It has the health effect to the skin, and can make the skin white, delicate.