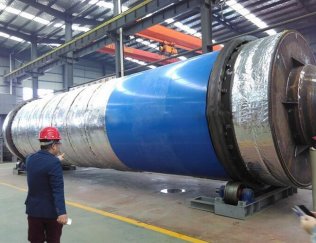 It is suitable for drying raw materials that have large size and heavy specific gravity in chemical, mining and metallurgy industries, like mines, blast furnace slag, coal, metal powder, phosphate fertilizer, thiamine.
Drying the powder or particles with special requirements, like HP soaking agent, vinasse, light calcium carbonate, active clay, magnetic powder, graphite and medicine residues.
If is suitable for the materials that requires low temperature drying and large continuous production.
Appilcation
biomass energy
food industry
Photo Gallery
It is three-layer cylinder suit structure machine, and adopts high temperature drying process, with its large intensity of drying, material in the dryer stay a short time. It also has large capacity than the same volume of dryer.
How Does Rotary Drum Dryer Work?

Your Best Rotary Drum Dryer Manufacturer
Still hesitated to choose a rotary drum dryer manufacturer? We are your best choice, start with our company to succeed, since the beginning and it will be with us to shape many tomorrows to come.
Features of GC-HYG Rotary Drum Dryer
The motorization level of the dryer is high and the production capacity is high.
The resistance that the materials pass through the cylinder is less and the power consumption is low.
The application capability to different materials characters is high.
The operation is stable, the operation cost is lower, and the uniformity of the product drying is good.
Model
Initial moisture content(%)
Final moisture content(%)
Water removal(kg/h)
Output(kg/h)
Coal consumption(kg/t)
Power(kw/h)
Dimension(m)
GC-HYG-9
70
10
900
450
400
27
24×8×7
GC-HYG-18
60
10
1800
720
250
40.8
28×9×8
GC-HYG-36
55
10
3600
900
200
60
32×10×9
GC-HYG-54
70
10
5400
900
400
7608
36×12×10
60
1440
250
55
1800
200
70
1800
400