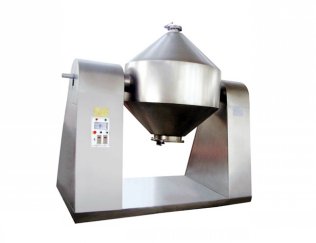 Double cone rotary vacuum dryer is a new generation design drying equipment developed by our factory.
It has two kinds of connecting ways, pulley and chain. Therefore it is stable during the operation. The special design reflects the good concentricity of two shafts, the heat medium and vacuum system all adopt reliable screw joint made from abroad. On the basis, we also developed SZG-A, it not only has step-less speed regulation but also has constant temperature control.
Appilcation
chemical industry
food industry
Photo Gallery
Main Structure Of Double Cone Rotary Vacuum Dryer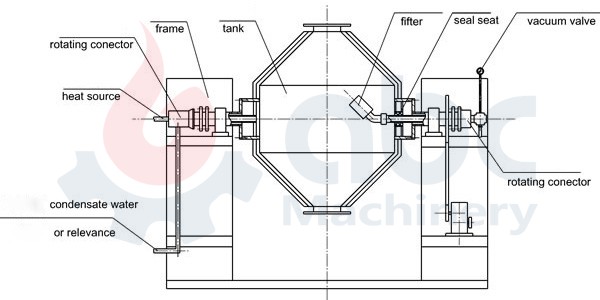 As a professional drying equipment manufacturer, we provide hundreds of machines to the customers. These series of double cone dryer are various from high temperature heat conduction as heating medium, to mid-temperature steam and low temperature warm water. When drying the adhesive raw materials, we will design special "shoveling plate" or design balls for you.
Features of Double Cone Rotary Vacuum Dryer
It is a new kind of drying machine integrating mixing and drying.
Its internal structure is simple, easy cleaning, material can be taken out entirely, and easy operation.
Reduce the labor intensity, improve the working environment.
It has high heat-transfer coefficients, the drying rate is big, which can not only save energy, but also dry material even fully.
It's widely used in pharmaceutical, chemical, food, dye industries.
Model
Working Volume(L)
Total Volume(L)
Heating Area(m2)
Speed(rpm)
Power(kw)
Height of rotating frame(mm)
Weight(kg)
Design pressure inside tank(Mpa)
Design pressure inside jacket(Mpa)
GC-SZG 100
≤50
100
1.16
6
0.75
1810
550
-0.09~0.096
≤0.3
GC-SZG 200
≤100
200
1.5
1.1
1910
700
GC-SZG 350
≤175
350
2
1.5
2090
900
GC-SZG 500
≤250
500
2.63
2.2
2195
1100
GC-SZG 750
≤375
750
3.5
2.2
2500
1200
GC-SZG 1000
≤500
1000
4.61
3
2665
1300
GC-SZG 1500
≤750
1500
5.58
4
2915
1500
GC-SZG 2000
≤1000
2000
7.5
5.5
3055
2000
GC-SZG 3000
≤1500
3000
9.6
4
7.5
3330
3000
GC-SZG 4500
≤2250
4500
13.8
15
4210
4000
GC-SZG 5000
≤2500
5000
15.2
18.5
4500
4200