It's flowing and continuous types of drying machine, and it is used to dry the sheet, strip, and particular materials that have good breathability. It is more suitable for the dehydrated vegetables, Traditional Chinese Medicine decoction pieces, etc that have high moisture content, and they are not allowed high temperature.
Its drying speed is high, the evaporation strength is high and the product quality is good. For the dewatering filter cake shape paste materials, they should be made into particles or bars then they can be dried.
Appilcation
food industry
Photo Gallery
Structure of Mesh Belt Dryer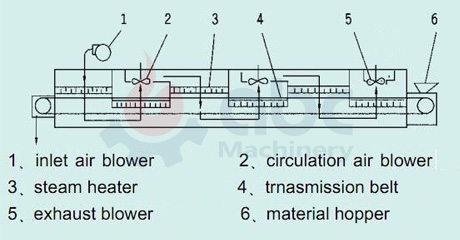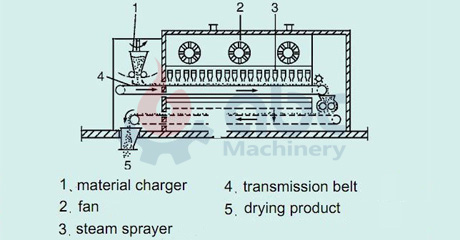 Your Best Food Drying Machine
It's suitable for dehydrated vegetables, particle feed, gourmet powder, fine coconut mash, medicine product etc.
Advantages of Mesh Belt Dryer
It can adjust the volume of air, heating temperature, stay time of raw material and feeding speed to achieve the best effect of drying.
The configuration is flexible. It can use the washing system of mesh belt and material cooling system.
Most of the air will be recycled, high energy saving.
Unique air distributing device, make the hot air distribution more uniform.
Model
Quantity of Unit
Belt Width(m)
Length of Drying Section(m)
Thickness of raw material spreading
Operation Temperature
Steam Pressure(Mpa)
Steam Consumption(kg/h)
Drying Time(h)
Drying Efficiency(kg h2o/h)
Power of Fan(Kw)
Total Power(Kw)
GC-DW-1.2-8
4
1.2
8
10-80mm
60-130℃
0.2-0.8
120-300
0.2-1.2
60-160
9.9
11.4
GC-DW-1.2-10
5
1.2
10
150-375
0.25-1.5
80-220
12.1
13.6
GC-DW-1.6-8
4
1.6
8
150-375
0.2-1.2
75-220
9.9
11.4
GC-DW-1.6-10
5
1.6
10
170-470
0.25-1.5
95-250
12.1
13.6
GC-DW-2-8
4
2
8
180-500
0.2-1.2
100-260
18.2
19.7
GC-DW-2-10
5
2
10
225-600
0.25-1.5
120-300
22.2
23.7