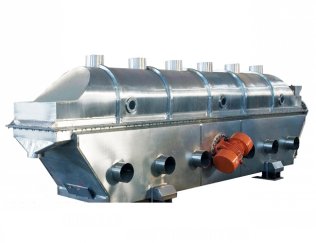 It is continuous fluid bed dryer with large production, suitable for the powder and granule materials drying and cooling of chemical, pharmacy, food, dehydrated vegetables, grain, mineral industries, like: citric acid, aginomoto, borax, ammonium sulfate, compound fertilizer, turnip strip, soybean meal, distillers' grains, seeds, slag, granulated sugar, etc.
At the core of our products, vibratory fluid bed dryer with its excellent performance are sold at home and abroad, win the trust of many customers.
Appilcation
chemical industry
food industry
Photo Gallery
Sketch Chart of Vibratory Fluid Bed Dryer


Work Flow Diagram of Vibratory Fluid Bed Dryer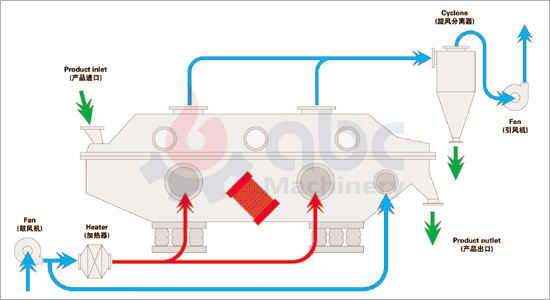 Features of Vibratory Fluid Bed Dryer
The vibration source adopts the vibrating motor to drive, so the running is stable, the maintenance is convenient, the noise is low and the life span is long.
The fluidization state is uniform, and there is no dead gaps and broken phenomenon, it can dry and cool the materials uniformly.
It is good in adjustment and wide in application. The change of thickness of material layer, moving speed in the machine and full amplitude can adopt infinitely adjustment.
The damage to the materials surface is small, and it can be used to dry the fragile materials; if the granule shape is not regular, the process effect won't be affected.
It adopts fully enclosed structure, which prevents the cross pollution between the materials and air, so the working environment is clean.
The mechanical and heat efficiency are high, the energy saving effect is good, that saves about 30-60% of energy than the common drying devices.
Model
Area of Fluidzed-bed (M2)
Temperature of inlet air(℃)
Temprature of outlet (℃)
Capacity to vapor moisture (kg/h)
Vabration motor
Model
Power(kw)
GC-ZLG3×0.30
0.9
70-140
40-70
20-35
ZDS31-6
0.8×2
GC-ZLG4.5×0.30
1.35
70-140
40-70
35-50
ZDS31-6
0.8×2
GC-ZLG4.5×0.45
2.025
70-140
40-70
50-70
ZDS32-6
1.1×2
GC-ZLG4.5×0.60
2.7
70-140
40-70
70-90
ZDS32-6
1.1×2
GC-ZLG6×0.45
2.7
70-140
40-70
80-100
ZDS41-6
1.5×2
GC-ZLG6×0.60
3.6
70-140
40-70
100-130
ZDS41-6
1.5×2
GC-ZLG6×0.75
4.5
70-140
40-70
120-140
ZDS42-6
2.2×2
GC-ZLG6×0.9
5.4
70-140
40-70
140-170
ZDS42-6
2.2×2
GC-ZLG7.5×6.0
4.5
70-140
40-70
130-150
ZDS42-6
2.2×2
GC-ZLG7.5×0.75
5.625
70-140
40-70
150-180
ZDS51-6
3.0×2
GC-ZLG7.5×0.9
6.75
70-140
40-70
160-210
ZDS51-6
3.0×2
GC-ZLG7.5×1.2
9
70-140
40-70
200-260
ZDS51-6
3.0×2