Fermentation Liquid Spray Dryer Export to India
As shown below, it is a fermentation liquid centrifugal spray dryer ready export to India. Our customers are all over the whole country, and export to Europe, America, southeast Asia and Japan.
Main Equipment Configuration
Heating supply system, hot blast pipe, feeding system, atomizing system, drying tower, cyclone separator, induced draft fan etc.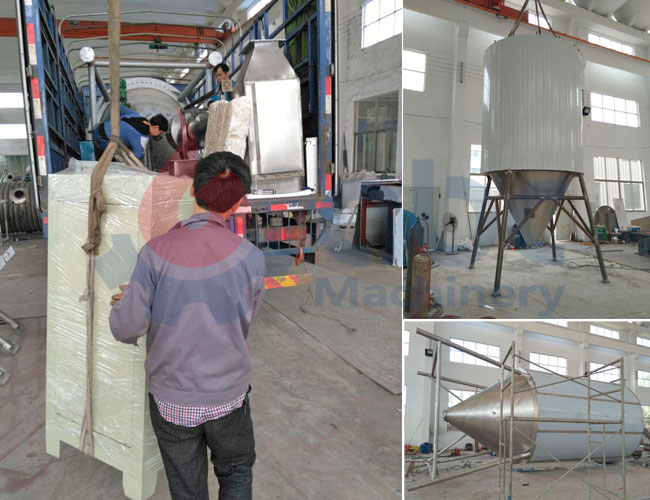 Project Information of Fermentation Liquid Spray Dryer
Amount of evaporated water: 10kg/h
Original moisture: 60%
Final moisture: 3%-4%
Capacity: 12-14kg/h
Heat producer: electrical heating
Power: 19kw/h
Covers an area of equipment: 5×3.5×5m
Our company integrates design, manufacturing, development, after-sales service, technical consultation in one of the new modern high-tech enterprise. Our main product for the drying machine includes rotary dryer, flash dryer, spray dryer, fluidized bed dryer…etc. Especially in spray drying, flash drying engineering and sludge dryer have unique expertise, which also far ahead of the domestic market. The products are widely used in chemical industry, medicine, metallurgy, feed, fertilizer, dye, food, etc.